Not a member? Receive a $25 site credit when you sign up today!
Sorry this item sold out! Shop similar items while they're still available.
Tap to close
Basket Velvet Sneakers
Size: 12 | UK 11
Size Chart
$145.00
20% Off Use Code: REAL
Est. Retail $240.00
Men's navy velvet Lanvin Basket round-toe low-top sneakers with contrast cap-toe, rubber soles and lace-tie closures at uppers. Includes dust bags.
Designer Fit: This designer runs a full size large.
Details

Condition

Excellent. No visible signs of wear.

Shipping & Returns

This item can be returned for credit card refund.

Return Authorization requests must be made within 14 days of shipment and the item must be returned within 21 days of original shipment.

See the Return Policy for more details.

Authentication

This item has been evaluated by an Authentication Specialist. Our 100+ Experts inspect thousands of items every day, so you can be sure each item is 100% authentic. Learn more.

Photos are of the actual item in our possession.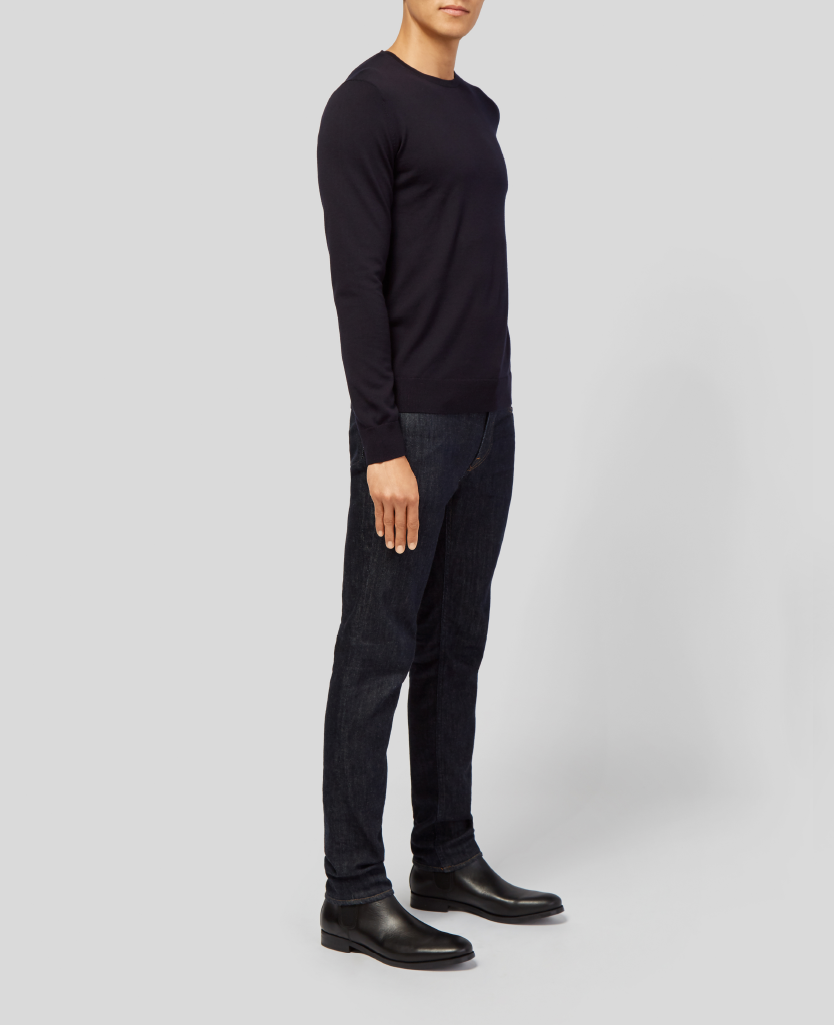 How We Measure - Men
View What's My Size
NECK: Measured with the collar unbuttoned and flat, the distance from button to center of button hole.
SHOULDER: Measured across the back, from shoulder seam to shoulder seam.
SUITING & BLAZERS SLEEVE:Measured flat, from the shoulder seam to the end of the sleeve cuff.
SLEEVE: Measured with the garment laid flat and front down, from the center of the collar to the end of the sleeve cuff.
LENGTH: Measured from collar seam to the longest part of the hem at center back.
WAIST: Measured flat across the interior waistband, and then doubled.
RISE: Measured from the seam between the legs to the top of the waistband.
INSEAM: Measured from the seam between the legs to bottom of the hem.
LEG OPENING: Measured flat across the bottom of the hem, and then doubled.
SHOES: Sizes on The RealReal are US unless otherwise stated.
What's My Size - Men
View How We Measure
Clothing
| | | | | | | |
| --- | --- | --- | --- | --- | --- | --- |
| | XS | S | M | L | XL | XXL |
| Europe | 44 | 46 | 48 | 50 | 52 | 56 |
| France | 44 | 46 | 48 | 50 | 52 | 56 |
| Italy | 44 | 46 | 48 | 50 | 52 | 56 |
| UK/US Chest | 34 | 36 | 38 | 40 | 42 | 44 |
| UK/US Waist | 28 | 30 | 32 | 34 | 36 | 38 |
Pants
| | | | | | | |
| --- | --- | --- | --- | --- | --- | --- |
| | XS | S | M | L | XL | XL |
| US | 28 | 30 | 32 | 34 | 36 | 38 |
| Italy | 44 | 46 | 48 | 50 | 52 | 54 |
| France | 36 | 38 | 40 | 42 | 44 | 46 |
Shoes
| | | | | | | | | | | | | | | | |
| --- | --- | --- | --- | --- | --- | --- | --- | --- | --- | --- | --- | --- | --- | --- | --- |
| US | 6 | 6.5 | 7 | 7.5 | 8 | 8.5 | 9 | 9.5 | 10 | 10.5 | 11 | 11.5 | 12 | 12.5 | 13 |
| Europe | 39 | 39.5 | 40 | 40.5 | 41 | 41.5 | 42 | 42.5 | 43 | 43.5 | 44 | 44.5 | 45 | 45.5 | 46 |
| France | 39 | 39.5 | 40 | 40.5 | 41 | 41.5 | 42 | 42.5 | 43 | 43.5 | 44 | 44.5 | 45 | 45.5 | 46 |
| UK | 5 | 5.5 | 6 | 6.5 | 7 | 7.5 | 8 | 8.5 | 9 | 9.5 | 10 | 10.5 | 11 | 11.5 | 12 |
| Italy | 39 | 39.5 | 40 | 40.5 | 41 | 41.5 | 42 | 42.5 | 43 | 43.5 | 44 | 44.5 | 45 | 45.5 | 46 |